Denville Man on Trial for Murder in Morris County Superior Court
By Travis Tormey posted in Homicide on Tuesday, January 7, 2014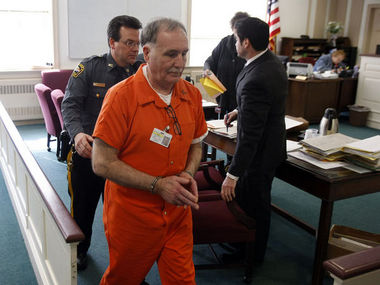 A Denville man is currently on trial in Morristown Superior Court, facing murder charges, after allegedly stabbing his ex-wife 84 times in 2010.
66-year-old Anthony Novellino is accused of stabbing his wife, 62-year-old Judith Novellino, in the bathroom of their residence on Cliffside Trail in Denville, New Jersey on June 19, 2010. Their divorce had been finalized just 11 days prior to the incident.
According to Novellino, his ex-wife Judith, a former teacher at Morris Catholic High School, had returned to their home to take some of her belongings, when she threatened him with a knife. Novellino told police that the couple struggled in the bathroom, at which time he cut her only two times.
Judith was found stabbed 84 times with a pig's mask covering her face. Recently during a hearing in Morristown Superior Court, the Novellino's neighbors of ten years, Shoko and Israel Rodriguez, testified that Anthony had called Judith a pig soon before the murder.
Morris County Assistant Prosecutor Maggie Calderwood sought to have this testimony included as evidence during the trial, claiming that it facilitates the establishment of the defendant's "motive, intent, and state of mind" prior to his wife's killing.
The inclusion of this evidence could significantly impact the outcome of the trial, as it has the potential to alter jurors' perceptions of the accused. Overall, if Anthony Novellino is convicted of the charges against him, he will be subject to a term of incarceration ranging from 30 years to life in New Jersey State Prison, 85% of which must be served before he becomes eligible for parole.
Criminal proceedings for the Novellino case will resume on Wednesday, January 8th.
For more information pertaining to this case, access the following article: Neighbor: Man called ex-wife 'pig' before he allegedly stabbed her, put pig mask on her face