Authorities Target Identity Theft, Counterfeit Merchandise before Super Bowl 2014
By Travis Tormey posted in Theft Offenses on Thursday, January 30, 2014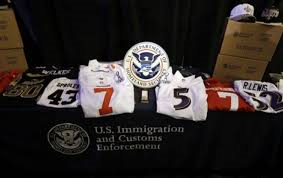 According to an official statement released on January 30th, agents from the U.S. Department of Customs Enforcement have retrieved over $21.6 million worth of counterfeit merchandise on behalf of the NFL in connection with this year's Super Bowl.
According to John Sandweg, Acting Director of the Department of U.S. Immigration and Customs Enforcement, the agency's efforts have led to the recovery of over 202,000 items, marketed as legitimate league merchandise, the majority of which was being imported into the United States from other countries. In addition, the department has successfully eliminated 163 websites operating for the sale of counterfeit NFL merchandise.
Authorities also issued a warning to citizens about the potential risks of making counterfeit purchases, as they inadvertently become vulnerable to crimes such as identity theft. Obviously, the risks to those who commit offenses involving the sale of counterfeit merchandise or the theft of another's identity are extremely serious if they are ultimately convicted of these crimes.
New Jersey's Trademark Counterfeiting Act, codified under N.J.S.A. 2C:21-32, identifies the sale of a counterfeit item with the intent to deceive or defraud some other person as an indictable criminal offense that can be classified as a second, third, or fourth degree crime, depending upon the circumstances of the specific case.
In addition, crimes involving impersonation and theft of identity in New Jersey, governed under N.J.S.A. 2C:21-17, can carry penalties ranging from 18 months to 10 years of confinement in New Jersey State Prison. The most serious of these cases, in which the actor obtains a benefit or deprives another of a benefit in the amount of $75,000 or more, or the offense involves the identities of five or more victims, those convicted can be subject to a term of incarceration ranging from 5 to 10 years in New Jersey State Prison. Violations of this statute are also punishable by penalties in the form of restitution payments that must be made to the victim or victims.
For more information, access the following article: Super Bowl 2014: Authorities seize more than $21 million of counterfeit NFL merchandise