Police Charge Grandson with Grandmother's Attempted Murder in Lodi, NJ
By Travis Tormey posted in Homicide on Tuesday, December 31, 2013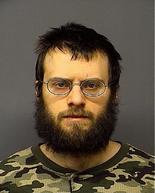 In a shocking revelation concerning the recent shooting of an elderly woman in her Lodi, New Jersey residence, authorities have identified the woman's grandson as the alleged perpetrator.
According to Bergen County Prosecutor John L. Molinelli, 28-year-old Joseph Cangialosi shot his 85-year-old grandmother, Olga Cangialosi, several times on the morning of Sunday, December 29th. She was reportedly sleeping on the couch in the living room of her home on Union Street in Lodi at the time of the shooting.
Joseph, who also lived in the Union Street residence, allegedly fled the scene with the weapon. He was apprehended by police in Rutherford at approximately 1:00 p.m. on Sunday afternoon and was later charged with attempted murder, hindering apprehension, and possession of a firearm for an unlawful purpose. Officials have yet to find the weapon used during the commission of the crime.
The victim is currently at Hackensack University Medical Center and is in critical condition following surgery, according to Molinelli.
Joseph's bail has been set at $2 million without a 10 percent option. He appeared in Bergen County Superior Court on Tuesday, December 31st at 10 a.m and will be subject to significant penalties, including a 10 to 20 year prison term, if convicted of the charges against him. Further, he could be charged with murder if Olga Cangialosi does not survive.
Attempted Murder Charges Lodi NJ, Bergen County
For more information pertaining to this case, access the following article: Family shocked by arrest of grandson in Lodi grandmother's shooting