"Black Magic" in Murder Trial in Morristown Superior Court
By Travis Tormey posted in Homicide on Thursday, December 12, 2013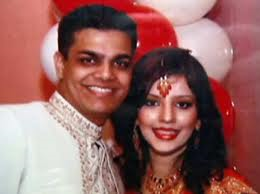 A man from Brooklyn charged with the murder of his wife is currently involved in criminal proceedings in Morristown County Superior Court in Morristown, New Jersey. In a recent hearing pertaining to the case, the Morris County Prosecutor's Office requested that e-mails sent by him to multiple black magic companies in which he inquired about causing the "accidental death" of his wife, be deemed admissible evidence.
28-year-old Kashif Parvaiz is allegedly responsible for conspiring to commit the murder of his wife, Nazish Noorani, in 2011. According to authorities, Parvaiz and 28-year-old Massachusetts resident Antoinette Stephen, with whom he had long-term romantic relationship, conspired to kill Noorani, while wounding Parvaiz in order to mislead investigators by attempting to replicate a "bias incident."
Under the New Jersey Criminal Code, a bias incident is defined as any suspected or confirmed offense or unlawful act which occurs to a person, private property, or public property on the basis of race, color, religion, gender (except matters involving a violation of N.J.S.A. 2C:14-2 or 2C:14-3), handicap, sexual orientation or ethnicity.
In May, Stephen pleaded guilty to the murder and agreed to cooperate with law enforcement, who found a litany of incriminating text messages between Stephen and Parvaiz during their investigation. In addition, detectives uncovered a series of emails exchanged between Parvaiz and the black magic companies "Extreme Black Magic" and "Ancient Black Magic." These emails, written in May of 2010, document Parvaiz asking about "getting rid of" his wife and making her "disappear," according to the testimony of detective supervisor for the Morris County Prosecutor's Office, Christopher Vanadia.
Assistant Morris County Prosecutor, Matthew Troiano, argued before Superior Court Judge Robert Gilson that these emails demonstrate Parvaiz's "prior bad acts," suggesting that they be deemed admissible evidence during Parvaiz's trial. Further, he argued that the emails provide evidence as to the defendant's motive. The matter has yet to be decided by Judge Gilson.
Detective Vanadia is scheduled to be cross-examined by Parvaiz's attorney when proceedings resume on January 2nd. Parvaiz and his attorney will also appear before Judge Gilson on December 27th, after the defense filed a motion requesting that Parvaiz's bail be decreased to $1 million. The current amount is $3 million.
Morris County Murder Charges, Morristown NJ
In yet another motion earlier this year, the prosecution requested that Parvaiz's comments to police during a recorded questioning session be allowed as evidence against him as well. His statements reportedly include an admission that he commissioned a friend to murder Noorani. The Judge's decisions regarding the admissibility of the aforementioned evidence will significantly impact the strength of the prosecution's case, ultimately influencing the jury's findings.
For more information pertaining to this case, access the following article: Detective: Boonton slaying suspect had investigated black magic to get rid of wife